WANT TO MAKE MEDIA EVENTS OUT OF YOUR TOURNAMENTS?
The GoLive service allows you to give great visibility to every match of your tournament, thanks to the services offered by MatchEnjoy. They are available for you as customisable package, which can be activated only during the event.

Moreover, a team of professionals is available to make a photographic and video coverage with drones, to capture every moment of your event and provide you with material for promotional use.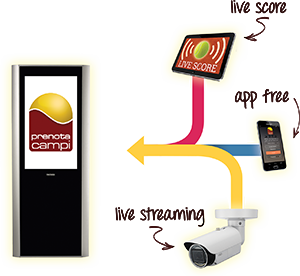 TOURNAMENT MANAGEMENT
Through MatchEnjoy you will be able to easily enter the players or the teams involved, and create any scoreboard.
VISIBILITY
The tournament trend can be seen directly on your website, from the club app. or the Touch Screen Totem.
LIVE-SCORE
Providing the results of the matches in real time makes an impression, especially for important tournaments. You only need to provide your staff with tablets, and they will be able to indicate the match results through a specific app installed on the devices.
LIVE STREAMING
To ensure the maximum distribution, you can use the live stream service made through the installation of professional cameras on your courts. Anybody will be able to watch the matches of your tournaments live on your website.